Maid of Honor Speech -
Your Complete 'How To' Guide

The maid of honor speech is just as important as the groom's remarks or the best man speech.
It is also one of the many traditions of weddings to have the maid of honor or matron of honor extend a toast to the bride.
Usually, the speech would be presented during the wedding reception in the first half, that was like before people began to leave, :-).
The best types of maid of honor toasts are those that have a bit of everything. You know, a bit of facts and fun and laughter. If balanced correctly you can get a superb speech that will have your guests remembering you for a long time to come.
That being said, there are some maid of honors that like to be "spontaneous", they do not believe in rehearsing before making the toast.
The majority, on the other hand, usually takes along some notes or even a well-prepared speech.
Whatever suits you is what you should do.
Below is a list of a few maid of honor speech ideas that may be helpful to you in some way or another when writing or preparing for your speech:
Reflect on stories that the bride used to share with you about when she first met the groom.


Include how you and the bride met and how long you both have known each other


Talk about a funny habit of the bride that the groom may not know about and that he will have to live with :-)


Recall some funny stories while growing up


You can even share a most "appropriately" embarrassing moment you enjoyed with the bride


Talk about how beautiful the bride and groom look together as a couple.


If the bride and groom are spiritual you may share a spiritual statement within the body of the speech.


Next to last, put forward some Words of advice to them both


You can then close of with wishes you have for them. This could include happiness, success, and many babies, :)
A relatively frequent question that is asked is:
What if the maid of honor is the groom's sister and doesn't really know anything about the bride, what kind of wedding speech does she give then?
My best answer: If this is the case then just simply discuss some of the special qualities your brother was looking for in a woman and make mention that he must have found at least some of them in his bride to be married to her. Drop in a bit of humor about your brother and share your thoughts on your happiness for them.
On A Personal Note
The maid of honor at my wedding was a bit shy and she needed some assistance with her maid of honor speech presentation. So similar to the Groom Speeches book that I purchased and used for my personal guide, I introduced her to the Maid of Honor Wedding Speeches Guide.
She read it from cover to cover and had the inspiration to present her speech with the most comfort and positiveness one could have ever seen.
So I recommend it to you since you are here to get information on how to present a maid of honor speech.
Click on the photo below to get your copy NOW and make every page count.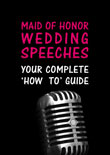 Just apply whatever you have read in the guide and tailor it to suit your preferred need.
Now go forth and prepare a maid of honor speech that will have the guests reminiscing about it for years to come. ;-)

Back To Wedding Toasts
Go to Home Page