Groom Speeches Made Easy

Traditionally, groom speeches are labelled as "the vote of thanks" or the "groom's remarks/reply".
This is because the groom would make a number of recognitions in his speech to persons who assisted with making the event possible.
He typically introduces the members of the wedding party to the guests and sometimes even share a short story of the relationships and why they were asked or chosen to be a part of the bridal party members.
As I said above, ensure that you remember to thank every one of them for their contributions, time and efforts in making your wedding day possible.
Now, if it was a situation where your wife's parents has already welcomed you into the family, it would be a great way to thank them and definitely show your happiness for now being considered a part of their family. As the groom, you can then share your thoughts on the new half of your family.
Shortly after praising and thanking the other half of your new family, you should now express your gratitude by thanking your own family. However, be sure to not only thank them for their support for the wedding, but also for all the support over the years and most definitely the years to come.
By doing this you will secure a "sweet spot" in your parents' hearts because parents love to hear this type of public admiration from their own son(s).
When doing groom speeches you should always make an effort to toast the bridesmaids. Note though that when you are toasting the bridesmaids that you ensure that you make mention of how beautiful they look and please...,
... please remember to actually raise your glass for the toast, this is very important to remember.
Finally, whether you are standing with or without your wife, you should remember to thank all your guests for making and appearance and participating in the festivities. Make special note to single out or place focus on acknowledging your out of town guests. It is not necessary, but it will be a great gesture that will be appreciated by them all.
On a Personal Note
I did not actually write down my groom wedding speech. I just did what I knew how to do, and that is speak publicly about my love for my new wife and thank the parents on both sides of the family for producing such great children and approving of our relationship.
It was not easy to get comfortable speaking in front of a large crowd but I had my coaching from a series of tips and suggestions from a little book called Groom Wedding Speeches.
It taught me how to prepare and execute my speech and it allowed me to do it in my own style. All it did was to give me the guidelines.
Why not see if you can get a copy and enjoy reading it and you will definitely have a great time with groom speeches after you have read it.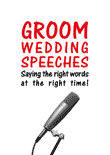 Click on the image above to get your copy as soon as you can.
I recommend you try and get it at least one month before the big day. That way you will have ample time to read it and appreciate its tips!
Here are some samples of groom speeches that you can look at and edit them to fit your situation.
Today I married the woman of my dreams. She is my best friend and lover, and now thankfully, she's my wife. When we first met, I knew she was something special. Her smile could light up a room and her laugh was contagious. But it went beyond that. I quickly came to learn that she's also caring, compassionate and loyal - and has a great sense of humor to boot!I feel extremely blessed to have (Bride's name) as my wife. I look forward to our life together, with all its twists and turns, joys and sorrows. I know in my heart that we were meant to be together - it was simply our destiny.(Bride's name), I love you forever with all my heart, mind and soul.


(Bride's name), the day I met you, my world stood still. I had always hoped to meet someone like you, but wondered if such a woman even existed. But when we met, you exceeded all of my expectations - you were my perfect fit. It was as if our meeting was written in the stars, arranged by some heavenly being. And the more I got to know you, the more deeply I fell in love. I knew that I wanted to hear your laugh, see your smile and feel your heart beating for the rest of my life. And so today as we join our lives together, I give you both my heart and my hand and want you to know that as we journey through life, we will do so as partners, lovers and best friends.I love you (Bride's name)!
Now aren't those just short, spicy and inspirational?
Have fun giving your groom toast or groom speech!

Back To Wedding Toasts
Go to Home Page